About Us
 A Family Tradition for Over 100 years
The Classic Company arrives from a multi-generational family tradition of working and building with concrete and masonry. During WWII Classic owner Eric Nelson's uncles Hank and Stan Smalkoski served with United States Naval Construction Battalions, better known as the Navy Seabees. The brothers were credited with building numerous bridges and bunkers on The Pacific Front. Dennis Nelson, Erics father, after his own 2-year military stent moved to Minneapolis from the family farm in South Dakota to start his career in concrete construction. Nelson began working for Jesco Inc. and would spend most of his trade career with them. Jesco Inc. (Edina) was considered the largest contractor in the State of Minnesota at the time and in 1967, the same year son Eric Nelson was born, Dennis Nelson and Jesco president Tom Kelleher placed all the concrete for the historic Met Center. It was no coincidence Eric would develop a lifetime passion for hockey and later would pour hockey arena floors around the country working under Kelleher throughout the 1990's. Eric moonlighted with his father pouring residential concrete in high school and college and added landscaping to this platform, while working in landscaping he learned valuable architectural design strategies working with natural materials. He developed a unique set of planning skills and realized how much he enjoyed working with people. In 2000 Eric left Kelleher to pursue his own entrepreneurial dream and founded Classic Company based on these principles and vertically integrated commercial and residential platforms dedicated to Service, Integrity, Quality and Value.
Today Classic is one of the largest contractors in the state and is a staple in the construction community.
Classic was built from the ground up by our own trusted employees, sub-contractors, and vendors who we have partnered with the last 20 years. Our highly accredited General Manager, Dave Phillips also comes from a deep family tradition similar to Eric's. Dave's father Dave Sr. started High Tech Floors in the 1990s and became the largest specialty floor company in the country. High Tech had a number of well-known clients such as Whole Foods, Cub Foods. Mills Fleet Farm, and Harmons Grocers. They created a patent for floor systems using a powder shake hardener with multiple color options and produced a very high floor level tolerance that exceeded specifications. High Tech polished more than 85 million sq. ft. across the country. Another critical part of the Classic team is Sr. Estimator and Project manager Wayne Thompson AKA "Bud". Bud too comes from a long-standing farm and construction tradition; he and his family have 3 three-generations of farming and construction bragging rights. This was the foundation that Bud and his siblings established. Together they developed a reputation of being relentless hard workers and their community took note. Bud specifically became a talented Mason who installed countless block foundations and brick veneers across the Tri-State area. He further created many natural stone fireplaces and monuments. Bud knows how to build a project and he looks at all aspects of each project from a realistic and logical perspective. The experience and meticulous attention to detail is the process that enables us to provide competitive and comprehensive estimates.
Classic works with several trusted sub-contractors to increase efficiency and capacity to finish multiple projects on time and on budget. We find the most qualified, experienced and dependable contractors and take them under our wing. This creates a fluid and cohesive environment which is the central part of our commitment to our clients. We provide construction management for every sub to create synergy with them and with our clients. Our masonry sub-contractors assist Classic in retaining contracts under one umbrella which customers prefer. We issue an exclusive contract that covers the entire scope of project i.e., demo, concrete, masonry and sub-contractors under one quote.
On the concrete side it is critical to have support from our sub-contractors because timing and schedules are aggressive and can rapidly change, especially when considering weather patterns. Classic has the ability to be effectively manage 6 to 12 projects per day with complete confidence to maintain customer satisfaction and job integrity. For example, we can install a 20,000 sq ft floor or slab on grade in just one day. We have that capacity, and we are committed to completing your job to specifications, on time and on budget.
Commitment to Quality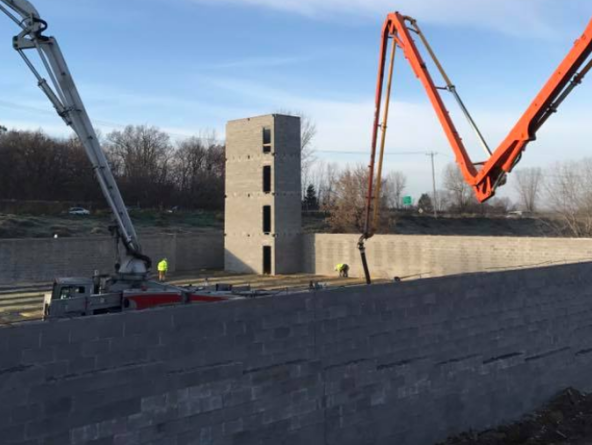 We are committed to quality, our team has a long list of trusted, reliable and proven vendors. Aggregate Industries is our top vendor and supplies 90% of our concrete. This relationship was built over a period of time and has a high value to us. We believe in using the best products available so we can deliver the very best products and offer the most competitive pricing for our clients. Our vendor relationship is a critical asset for standing behind our products and services. Together Aggregate and Classic produce the highest quality concrete in the Tri-State area. Vendor Delivery assists Classic on many levels, projects are fluid and periodically we need specialty items ASAP, and we can count on them for immediate delivery. CMI Inc. is our go-to source for providing all specialty items needed. Advance and Carrol Supply are two vendors that help provide Classic Company with an A grade rating, and we appreciate it!
We guarantee our work, on time and on budget.
Lasting Results, Lifetime Support
Certified Contractors
ACI Flatwork Finisher
Dura-Crete Decorative Concrete Installer
OSHA 10 and OSHA 30 Operating Certificates
Licensed & Bonded in Minneapolis-St. Paul, MN.
Classic Company has provided unparalleled expertise in concrete and masonry services to the Tri-State area since 2000. We will help you determine which application is perfect for your project, keep you on budget and provide you with the best return on your investment.
A True Family Business
At Classic Company LLC, the concrete business has been a family tradition since WWII. From pouring concrete for the mobilization of ground forces to creating hockey arenas around the country, including the Met Center, Eric Nelson's family experience in the concrete business is truly invaluable.
From pool decks to home patios to sidewalks, choose Classic Company LLC.
Unlimited Possibilities
When it comes to concrete, the possibilities are truly endless. Classic Company LLC has a focus on the highest possible standards for our work. These standards were taught to Eric by his father and his associates going back to the 1960s.
At Classic Company LLC, it's not just a job to us. It's a product that represents the client and the craftsman, with a focus on the details and the highest caliber of work. 
Call us
today to get started.
Highly Certified Contractors
ACI flatwork finisher
Dura-Crete decorative concrete installer
OSHA 10 and OSHA 30 operating certificate
About Us
Classic Company has been providing concrete and masonry services to the Twin Cities Metro, MN area. Our services include residential and commercial driveways, floors, brick, stone, and more.
Brick
Concrete toppings
Curbs
Door openings
Driveways
Elevators
Floors
Foundations
Gutters
Loading docks
Patios
Stone
Walkways
Brickwork
Curb installation
Elevator installation
Loading dock installation
Stonework
Specialties
ACI-certified journeyman finishers